JF Anstead
Biography
I was born in Enid, Oklahoma, May 2, 1962. Enid is a welsh word made famous by Arthurian legends. It literally means soul. My full name is Joseph Frank Anstead but most people call me Joe.

Because my father was a cartographer I grew up in a series of latin American countries. My very young years I spent in the Andean country of Ecuador. There in the third grade I asked my older sister how to write a poem. My homework assignment made it absolutely necessary. I did not know then that I would be writing poems for the rest of my life.

My late elementary school years I spent in Nicaragua. There we experienced a large natural disaster by way of the 1972 Managua earthquake. While going to school I invented a club called the Spy League of America. It was very successful and the money I made off it lasted me about six years. But it was the friends that I made that I remember most.

My early High School years were spent in Panama, Canal Zone. It was there in the ninth grade that I was published for the first time in the school newspaper. It was the end of an era as soon as we left, the Canal Zone ceased to exist. The world was changing.

My late High School years I spent in Mclean, Virginia a suburb of Washington D.C.. There I took classes at the American Film Institute and later attended George Mason University. I went on to win an award at the Potomac Film festival for a short video about poetry called Le Noir. I also worked a while at an award winning documentary company.

Later I would work for the Defense Information Agency that overlooked all the computer networks for the military. I was an Internet Developer specializing in web animation.

I would go on to design the first 3-D virtual reality shopping mall for a company
named Cybereality

Currently I am Co-Founder of Luxconscientia.com

Now I live in Houston, Texas where I write short stories and poetry for fun and enjoyment.
Videos
The Light at the Center of the Universe
Book Trailer
Books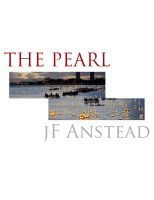 The Pearl
by

JF Anstead
Two young girls experience the synchronicity of having the same dream. They are helped by an angel in the guise of a pilot. But what dread portent lies in the pearl.
JF Anstead's tag cloud