Vanessa Perez
Hi, I am Vanessa, I am 10 years old and I'm from Ontario, Canada.
I am a very curious kid and enjoy learning new things. I love nature and love spending time with my family and friends. One of the things I enjoy very much is baking because I love following recipes and creating new ones. I also love playing chess and checkers. During my spare time, you can also find me playing Minecraft , I like it because it allows me to be more creative, to challenge myself, and to just have fun. I Iove playing piano, singing, and sometimes I make my own music. I keep myself active by playing tennis, skating and volleyball, and out of those, I enjoy volleyball the most. And of course, I really enjoy reading and creating stories! I write a lot of stories in class, but mostly as assignments, but sometimes for fun too!
This is my first book published, so I am excited to share this story with you!
I really hope you like it!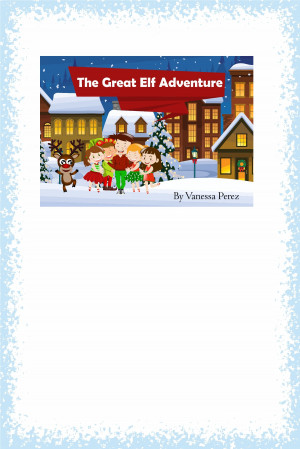 The Great Elf Adventure
by

Vanessa Perez
It's Santa's 9060th Marriage Anniversary, and he is preparing a surprise for Ms. Claus! Santa calls in all his elves to wrap the gift he bought for Ms. Claus – A Time Machine – when things go terribly wrong. Ginger an elf, who was wrapping the gift gets sucked into the time machine and accidentally travels back in time. Will they find a way back to the present?