Edward Tilley
World Peace - The Transition and CSQ Common Sense 101 are reading that build a better world and set out a curriculum that discusses good common sense is an ambitious goal perhaps, but we seem to need someone to make a start – and so here it is.

To give you some idea where my books come from; I raised five terrific kids, built six high-tech startup companies, I learned something new every day of a 25 year high-tech engineering career. I was twice a CIO; twice a CTO; three times CEO and led 300+ projects, a dozen major programs with budgets up to $100 million, 80 staff, and 200+ team members. I founded and built of one of the largest local volunteer Minor Sport organizations in Toronto - which gave me the experience of hiring eight management teams every year as well. My hopes for the next generation connects me to the future.

I can say easily that I am a country and even world builder, capable, big-pictured, process-minded, and strategic thinker. I have a well-balanced resume for someone who thinks they know enough how to Transition our communities to World Peace based on a process for improving common sense in every individual and home.

I deeply enjoy intelligent, academic debate. Family and society are important to me. My forefathers were Pilgrims, Puritans, and Founding Fathers. That history connects me to the importance of leveraging lessons from the past.

World Peace, CSQ Common Sense 101, and others are important topics I think that I have done their complex and diverse subject matters justice; as well as any author could anyway. I would consider it a tremendous success if you find the planning an lessons helpful and also find it in keeping with the values of your community sufficient to suggest that it become a course for young teens. Giving them the processes to help their friends and families for a lifetime – based on lessons that took most of us a lifetime to attain.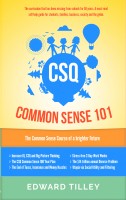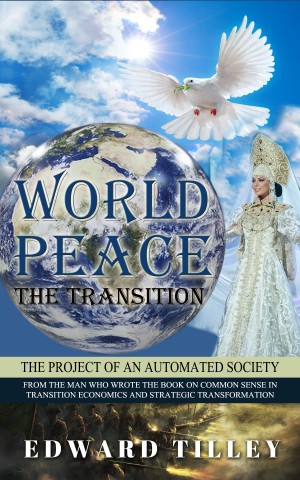 World Peace - The Transition
by

Edward Tilley
World Peace - The Transition - is a Plan taken from well-supported explanations in economics, technology, history, business, leadership, and transformation (project management), to create a simple straight-forward series of next steps that lead on to a Good Life (as Aristotle called it) - the American Dream for seven billion people.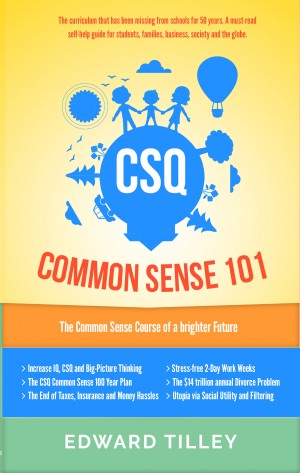 CSQ Common Sense 101
by

Edward Tilley
CSQ is a guide to improving the big picture, strategic value of the actions we take in World Events, Society, Business, Family and in personal life decisions too. The 100 Year Plans, the process, and technology to fix our biggest problems and forge a brilliant future; from curing cancer, to solving a $14 trillion Divorce problem, to world peace, to a Process to Solve Anything, and...