Eve Brownstone
Biography
Eve Brownstone is also the author of Opening New Doors, a book of poetry and process, which examines a journey from fear to love. Letting Go/Going On is a booklet for healing from sexual trauma. Born In Relationship tells the story of one identical twin's search for herself and healthy relationships. Her work has been featured in the Boston Herald, Chicago Tribune and the WGN Morning Show and Twins Day Festival.
She has presented for: Illinois Coalition Against Sexual Assault Conference in Springfield, IL and American Society of Group Psychotherapy and Psychodrama in Toronto, Canada. Eve is a certified Psychodramatist.

Eve lives and works in Chicago. Most mornings you can find Eve down at the beach to greet the sunrise.
Videos
Getting the keys back
In relationships we can feel voiceless or powerless. In this video keys are used as a metaphor for getting your power back
Books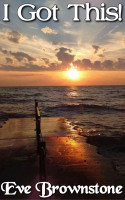 I Got This!
by

Eve Brownstone
I Got This! shares Eve's journey to more sef-love and empowerment.
Eve Brownstone's tag cloud