Jim Riley
Biography
Having grown up in the rolling hills, cotton fields and unique culture of Northern Louisiana, Jim Riley's writing is heavily influenced by the profoundly poor agricultural setting and vast outdoor world that impacted his childhood and continues to color his outlook on life. His professional career may have started in the oilfields, but it has migrated to Deer Farming, a little known industry. Jim considers the experience of feeding a newborn fawn to be one of the true joys of life, and strives to draw that into his writing as inspiration.
Books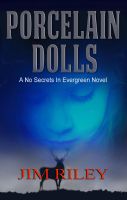 Porcelain Dolls: A No Secrets in Evergreen Novel
by

Jim Riley
Agent Wade Dalton is looking forward to his first case, a botched murder attempt, but when the second murder attempt ont he same person is successful, Wade finds himself in over his head. He finds himself embroiled in something much deeper, and in investigating it, he may end up the next victim.
Jim Riley's tag cloud