E. Wayne Stucki
Biography
E. Wayne Stucki lives in St. George, Utah with his wife, Franece. They have been married for 33 years. Together they have 5 children. Wayne has served a mission to Ontario Canada for the Church of Jesus Christ of Latter-day Saints. He has earned his Bachelors Degree in Business Administration from Brigham Young University and an MBA from the University of Utah. Wayne continues to be active in the LDS faith and has served in various leadership capacities in local congregations. He is an avid Scouter having received the District Award of Merit and Second Miler Award.
Books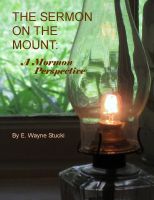 The Sermon on the Mount: A Mormon Perspective
By
E. Wayne Stucki
Price:
$0.99 USD.
Words: 63,230. Language: English. Published: October 21, 2011. Category: Nonfiction
The Sermon on the Mount is one of the greatest discourses ever given in history. It is so important that it was delivered twice: Originally in Palestine and the other in the Americas. This Sermon is directed to Christ's disciples and provides a template for religious leaders to follow. The sermon is approached from the perspective of the Church of Jesus Christ of Latter-day Saints (Mormons).
E. Wayne Stucki's tag cloud