Richard Law
Biography
The author was born in Toronto, Canada, in 1949. He attended the University of Toronto from 1968 to 1973, earning an Honours BA and a BEd.
A 40 year teaching career followed, highlighted by 34 years at Humber College in Toronto.
Richard co-authored a Statistics text book for first-year Business students.

Elementary Statistics
First Canadian Edition, Second Canadian Edition
ISBN 0-201-75209-3
Triola, Goodman and Law, 1999 and 2002
Addison, Wesley, Longman (now Pearson Education Canada Inc)
Toronto
Richard is now retired and living in Burlington Ontario with his wife, Beth.
Books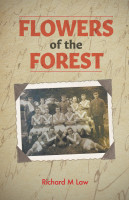 Flowers of the Forest
by

Richard Law
Farquhar McLennan was a phenomenal soccer player and a generational athlete. He was also a private in the 58th Battalion, Canadian Expeditionary Force. In the summer of 1915 he embarked on a journey into war along with his two best friends. It was not just a journey of longitude and latitude, but also a transformation of youth into manhood.
Richard Law's tag cloud