F. K. Avornyo
Biography
The author is a Principal Research Scientist at the Animal Research Institute of the Council for Scientific and Industrial Research in Ghana. He has been working as a research scientist for the past 20 years. He holds a PhD from the University of Cambridge, UK in 2000 where he did his dissertation in Ruminant Nutrition. He completed his first degree in the year 1992 with a first class honours in Animal Science. He completed an MSc. Programme in Sustainable Agriculture at the University of London in the year 1995. He has executed over 10 research projects on the guinea fowl on topics ranging from keet mortality, production, profitability and improving quality of guinea fowl feed. His research efforts are aimed at improving the livestock industry with an interest in enhancing nutrition and income security of poor rural households. . He was the Vice Chair of a Guinea Fowl Value Chain Committee in Ghana from 2007 to 2013. He was part of a team that developed a National Strategic Plan for the guinea fowl and he is also a member of an Experts Business Development Team on the guinea fowl in Ghana. He advises the Ghanaian government on livestock policy issues and contributes to the training of agricultural staff, development workers, university students and farmers to facilitate technology transfer. He has therefore undertaken over 20 training sessions in various aspects of production and commercialization of guinea fowl production. He has been appointed to teach a postgraduate course in Animal Nutrition at the Council for Scientific and Industrial Research College of Science and Technology. He has published 22 papers on the guinea fowl (5 referred journal papers, 5 conference papers, 6 magazine articles, 5 technical reports and 1 manual). His hobbies include caring for animals and watching documentaries.
Books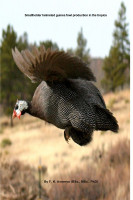 Smallholder Helmeted Guinea Fowl Production in the Tropics
by

F. K. Avornyo
Good medication regimen and microclimate control are the main solutions to the problem of keet mortality. Sex ratio between guinea hens and cocks must be right. Hatching eggs should not be stored for long. Brooder guards should be installed to prevent stampede. Records should be kept for good assessment of the enterprise. Proper transportation of birds is absolutely important to avoid mortality.
F. K. Avornyo's tag cloud