Faysal Mikdadi
Biography
Faysal Mikdadi (Born in Palestine in 1948) was carried to Lebanon where he was brought up and was given his rather unsuccessful education. He moved to Britain in 1967 and has lived there since. He is an English Literature specialist with a keen interest in the Nineteenth Century Victorian novel and in Shakespeare. His published works include novels, poems, short stories, bibliographies, educational essays and regular contribution on current affairs.

He started writing at a very early age during a turbulent and unhappy childhood. His urge to write comes from a deeply felt need to try to make sense of a disordered and crazy world and to laugh at his own rather stodgy attitudes to a much sought after quiet life. It also comes from his need to laugh at others' predictable higgledy piggledy existence and to celebrate his deep love of nature – the only place in which he sees any order and a semblance of logic.

This collection of short stories and his first musical were composed during Mikdadi's spare time whilst working in Dubai and Ras al Khaimah. His love of both Emirates and his gentle satire shine through these all too human representations.

By the Same Author

Novels:
Chateaux en Palestine, Paris, France, 1982.
Tamra, London, United Kingdom, 1988.
Return, Raleigh NC, USA, 2008.
Snowflake, Raleigh NC, USA, 2013.

Short Stories:
Christmas Stories, Raleigh NC, USA, 2012.

Poetry:
A Return: The Siege of Beirut, London, United Kingdom, 1983.

Bibliographies:
Gamal Abdel Nasser, Westport, USA, 1991.
Margaret Thatcher, Westport, USA, 1993.
Books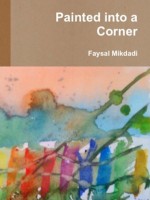 Painted into a Corner
by

Faysal Mikdadi
A collection of poems and paintings by Faysal Mikdadi. The poems cover the last forty years. These passionate poems are about living in the Diaspora and striving for peace between Palestinians and Israelis. They express the poet's mixed feelings of despair, anger, humanity and, most of all, enduring hope.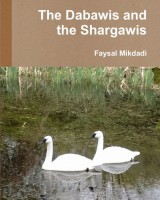 The Dabawis and the Shargawis
by

Faysal Mikdadi
These are short stories written during various visits to Dubai and Ras Al Khaimah. Many of them were inspired by real experiences during meetings with interesting people and during long solitary walks in both cities and their surrounding countryside. Mikdadi tries to make sense of a hilariously disordered world. These stories are memorable and could not help but move readers, as Maeve Binchy said.
Faysal Mikdadi's tag cloud