Fez Ferdinand
Biography
Fez Ferdinand, or as the squirrels call him by his given name:
Fezzollo Ferdinand Esquire III circa 1924 serial#64341616 part 6.

Fez was raised by a hill of fire-ants in a small town along the Mississippi called Philadelphia. After saving up enough twigs, he was finally able to get out of Philadelphia, and move to another small town along the Delaware called Philadelphia.

In Philadelphia, he started out making his living as a Professional Amateur. It was at this time he used to squash aluminum cans into strange shapes. Others took notice of the skill in his craft, and decided to give him his own television series which lasted a solid 15 seasons. Fez met Limpy in the glorious year of 1286 A.D. when he created him in a laboratory while fooling around with a lot of funky chemicals.

A self proclaimed hermit, Fez is considered the world's leading expert on quantum Physics. (although he cannot count, and only recognizes 11 letters of the english alphabet...kinda in order) On one particular evening, Fez was outside practicing for a milk-crate stacking demonstration with his childhood buddy Jippy Gomez. (who?) Someone spotted the precision of his technique and offered him a steady gig. Now on Mondays he pantomimes famous children's stories (admission is $2.75 adults, $1.50 kids) Fez also has an obsession with his favorite drink....Wawa Raspberry Iced Tea.

Today Fez is an Amateur Professional. He likes to create artwork, his favorite color is burlap. He spends his free time in various parks kicking pigeons, feeding and talking with famous squirrels.
Books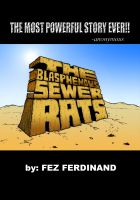 The Blasphemous Sewer Rats Epic
by

Fez Ferdinand
The most POWERFUL story ever! A story of three wandering wanderers, and their search for food, love, pez, and a meaning to their existence!!
Fez Ferdinand's tag cloud