Eric Elliott Carol Wolf
Biography
Eric Elliott studied acting at ACT in San Francisco and, after discovering that actors who can draw make pretty good animators, he worked in the videogame industry on such projects as Gex, Rampart, and The Mask. While animating Carol Wolf's scripts for cinematics in the Legacy of Kain series of games, he gained an appreciation for well-crafted stories, and that led to collaborating with her on two independent films. Despite meshing so well on artistic projects, Carol nevertheless maintains that Eric eats string cheese the wrong way.

Carol Wolf is the author of Summoning and Binding, the first two books of the Moon Wolf Saga. She wrote the scripts for the blockbuster video games Blood Omen: Legacy of Kain, and Legacy of Kain: Defiance. Her previous collaboration with Eric Elliott was at Paw Print Studios, where between the two of them they wrote, directed, acted in, shot and edited the horror comedy The Valley of Fear, and the drama Far From the Sea. Wolf earned an MFA in Drama-Playwriting from the Mason Gross School of the Arts at Rutgers, and a BA in History from Mills College. Carol and Eric met when Eric played the lead in several of her plays.
Books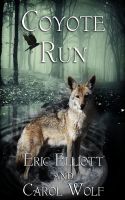 Coyote Run
by

Eric Elliott Carol Wolf
Shannon's move to Southern California, to the home of her new stepfather and his family, becomes a nightmare when her mother is struck by a car and left in a coma. Shannon finds refuge with a boy who she learns has the power to shapeshift and to teach Shannon how as well. The excitement of her new adventures with Matt and his pack forces Shannon into choices she never imagined.
Eric Elliott Carol Wolf's tag cloud