Joy Able
Biography
Qualified exercise physiologist working in elite sports, strength & conditioning and exercise rehabilitation. Total understanding of the changes the women's body goes through as a result of pregnancy this book has been developed with the sole intention of assisting both mother and baby through pregnancy, birth and post-natal periods. Personally worked with hundreds of women looking to achieve better health outcomes during pregnancy aiding in faster recovery times returning to activities of daily living quicker, with less discomfort.
Books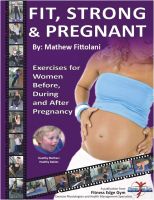 Fit, Strong & Pregnant
by

Joy Able
Do You want to get the most out of your Pregnancy? Whether you are not currently involved in physical activity or exercise, or you're a recreational trainer or competitive sportswoman, this book has everything you need to develop a simple, safe and effective exercise program for before, during and after pregnancy at home or in the gym.
Joy Able's tag cloud