Kate Bloom
Biography
Kate Bloom grew up in Upstate New York and France, traveling all over the United States before settling in the Northeast with her husband. Her passions include reading, knitting, running, baked goods, and, of course, celebrities.
Where to find Kate Bloom online
Books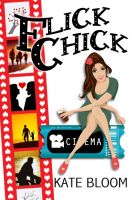 Flick Chick
Twenty-eight-year-old slacker Adrienne Lane invests most of her energy in watching movies, making fun but pointless lists, chasing celebrities and living vicariously through her employed friends. Then the unthinkable happens: She meets Mr. Perfect and is told to get a life. To keep her love--and her job--does she have to give up the stars?
Kate Bloom's tag cloud