wayne mann
Biography
Captain Wayne A. Mann has thirty-two years of experience flying for three different passenger and cargo airlines. He began his airline career during the "dawn of deregulation" in 1978. This law was intended to remove the economic restrictions on how much an airline could charge for its fares or what routes it could fly. Unfortunately this legislation had unintended consequences.
Captain Mann has witnessed first hand the demise of the airline pilot profession and reduction in the safety culture of airlines that exists in the United States today due to deregulation.
He has extensive experience in training and evaluating airline pilots, and resides in Culpeper, VA and Clarendon Hills, Ill.
Books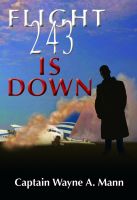 Flight 243 Is Down
by

wayne mann
Flight 243 Is Down is an aviation mystery crime novel. An investigative reporter witnesses the crash of a commercial airliner, and uses his talents to discover the true cause of this tragedy.
wayne mann's tag cloud