Vera Csada
Biography
I am a firm believer in the message of the Holy Bible. My mother told me about this message when I was growing up, and I didn't believe her words! I asked lots and lots of questions, until I was about 10 years old. The questions I asked are recorded in my first book called 'The Gift of Love'. I decided then, at that young age, that this message was true, after all, even though I haven't stopped asking questions! I am happy that my name is 'Vera' which I have understood to mean 'Truth'. I am a diligent seeker of truth, and I don't believe it is wrong to ask questions. I actually believe everyone should ask questions, no matter what you were told to believe as a child, and that the most important person to seek answers from is from God. Every question I asked God he answered. Sometimes, it took years before I got the answer, but I got the answer every time.
Sometimes I had to learn my lessons the hard way, too. I believed that it didn't matter who I married because God loved everyone, even though the Bible does say we shouldn't marry someone who is not going in the same direction. I had many reasons for why I married a Hindu man. It went well for awhile. But, finally, after some very difficult times, I realized that I really didn't know more than God! I actually got very angry with God because He didn't seem to care about me or what I wanted! I had to repent for going my own way, and I did that, asking Him to forgive me and lead me in His ways. I turned back to God even though I was angry at Him, and it took awhile for the anger to go away.
There was a film shown in the church I attended called, 'All the King's Men' which told everyone the message that no matter how you are treated, or anything else that was going on, you are condemned if you get a divorce. In spite of that message, and after much prayer, I believe He told me to get out from under the umbrella where the His rain couldn't fall on me. I decided that I must be obedient to God no matter what the consequences, and I got separated and divorced. I did this even though two children were involved because I believed that God was saying that I need to agree with Him and not to keep holding up my own arguments. At this time, I was diligently seeking guidance and direction in prayer.
That was almost 30 years ago now, and God is good. Today I am re-married to a believer. We have been married for 18 years.
I believe that everyone needs to find the truth of God for themselves, and no one should blindly follow after any teacher or leader, even if that person is your own mother! I am not saying to be rebellious, or disrespectful! I am just saying seek diligently after God for yourself, for in this way you will not go wrong. Just because so many people believe this way or that way, doesn't confirm that it is correct. Find out for yourself! Ask God to reveal Himself to you. He will.
Books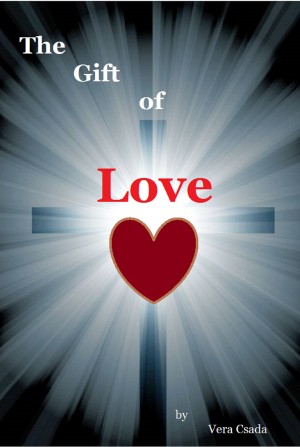 The Gift of Love
by

Vera Csada
This booklet is for anyone and everyone, young or old, who would like to know the most important message of the book called the Holy Bible. Also included is the author's quest as a child to figure out if this message was really the truth.
Vera Csada's tag cloud