David Dixon
Biography
David Dixon was born in 1942 in Middlesbrough, England. After a peripatetic education is different parts of the country ( tough at the time but good experience for a writer) he trained as a painter and silversmith, before leaving to join a technical advertising agency at the age of 22. There followed a career as a copywriter with the J.Walter Thompson and Ted Bates agencies in London until he quit the corporate life to work as a freelance writer in 1976. Radio broadcasting commissions for the BBC followed during the 1980's and '90's alongside a vast range of scriptwriting assignments - including everything from speechwriting to soundtracks for visitor attractions and exhibitions. He has worked in Europe, the Far East and the United States. 'L'Affaire Valentine' blends David's early experience of the aviation industry with film production skills gained in the early 1970's, when he worked alongside the last of the old newsreel veterans, scripting news based TV ads for Fleet Street. Now retired from commercial pressures, David lives with his wife Pamela in the Old Town area of Hastings on the south coast of England. Something of a Francophile he travels to France several times a year and is the author of Tripadvisor reviews appearing under the name of Bleriot.
Smashwords Interview
Books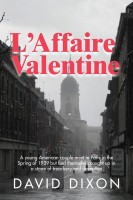 L'Affaire Valentine
by

David Dixon
In the Spring of 1939 Sally Peterson arrives in Paris to oversee the shipping of almost a million dollars worth of paintings for the New York World Fair. But from the moment she meets newsreel man Patrick Valentine at a U.S.Embassy party, life takes a sinister turn. A story of espionage, treachery and murder, L'Affaire Valentine mixes fact, fiction and romance to recreate an extraordinary era.
David Dixon's tag cloud