F.P. Chat
Biography
F.P.Chat was born in Greece and has lived both in Greece and UK. She has obtained a BSc in Finance and Economics from Greece, and an MSc in Manufacturing (M&IS) from UK, and works as a Manager in an International Company since 2002.The book "Awaken" from the book series "The essence of Eternity" is her first attempt in the art of writing. Her hobbies include reading, especially fiction and fantasy, and watching movies. Her favorite authors are J.R.R. Tolkien, Tom Robbins, Stephen King and many others.
Where to find F.P. Chat online
Books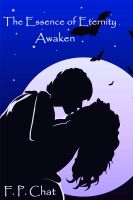 The Essence of Eternity - Awaken
by

F.P. Chat
(3.00)
On her 18th birthday Titania's world changes; She discovers her true nature, she is an immortal fairy with strong royal blood and she falls madly in love with her gorgeous protector, dubhghall. In this incredible new world of revelations lays danger. A war is fomented and she needs to prevent it. She is not alone in this, her friends and family support her but Will all of them make it through?
F.P. Chat's tag cloud