Frances Byrne
Biography
Frances Byrne was born in Perth, Western Australia in 1961. She has one daughter, a son-in-law and three sons, and is married to her soul mate, Dean.She works at a specialist school for children with various intellectual disabilities as an educational assistant.Frances believes that the many challenges she has faced throughout her life have made her a stronger person.
Where to buy in print
Books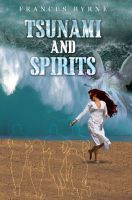 Tsunami And Spirits: Fran's Story Of Them And Us
Tsunami and Spirits: Fran's Story of Them and Us, is Frances Byrne's fascinating portrayal of her dealings with the spirit world. Frances Byrne delivers a detailed account of what happens on the other side. From an early age the author has been plagued by uncanny happenings in her home. Eventually, through patience and understanding, she is able to identify good from evil.
Frances Byrne's tag cloud