Alfreda M. Turner
Biography
Alfreda M. Turner is the articulate author of several plays and manuscripts, including her latest book, Bottled Up Tears Turned To Showers of Blessings Inspirations For Your Everyday Needs. She attended Daytona State College and placed on the Dean's list several times and attended Bethune Cookman University. She has also earned a Master's Certificate as a Certified Counselor for the Enrichment Girl's Ministries; Mrs. Turner has been an educator for over 30 years with superior evaluations and accomplishments. Her love for children, inspired her to become Founder of YLT Child Development and Learning Center. Her passion for helping others gained her recognition as winner of the State Women's Ministries President of the Year ,winner of State Girl's Ministries Director of the Year, and Honored for Women Will Evangelize the World and certified Ministry Care Counselor, earning credits with the Florida Bible Institute, Church Of God International Offices. She is also Founder and President of Grace In Action Women of Purpose.
Books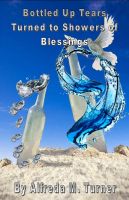 Bottled Up Tears Turned To Showers Of Blessings Inspirations For Your Every Day Needs
by

Alfreda M. Turner
Each chapter of this book defines what is on the inside of you, lifting up your soul and giving you a new leash on life. After you come into the understanding of no more brokenness, your bottled up tears are released into laughter, happiness, strength, comfort and motivation, in empowering you to face your fears and move you forward into a higher dimension of peace in your heart.
Alfreda M. Turner's tag cloud