Fred Stang
Biography
Fred Stang haunts Manhattan Island and frequents the World-Wide Web while residing in Westchester County. He has a firm belief that real learning cannot help but be fun for the learner, and has tutored kids for many years according to this principle. He has never failed to find that kids like learning whenever the fun of it is allowed them. They are, after all, learning all the time, no matter what it is they are learning. They are especially learning when they are playing.

Fred is himself a pupil of Socrates in his imagination. The Socratic Method of Reasoning and of Teaching are his guideposts in these works. Learning happens best when it is drawn out rather than drilled in. Mark Twain noted, "There's nothing like a little schooling to ruin a wonderful education." Socratic inquiry will bring about happier results without ruining the education.
Books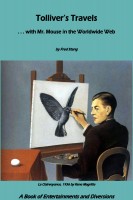 Tolliver's Travels . . . with Mr. Mouse in the Worldwide Web
by

Fred Stang
A collection of fun and entertaining story puzzles which call for logic and imagination to solve. An original presentation of classic and new puzzles which allow the reader to proceed without looking up answers. The answers unfold as the reader progresses.
Fred Stang's tag cloud