Fred Wiehe
Biography
Fred Wiehe is a Writing Instructor, as well as a professional writer. He's a member of the Horror Writer's Association, yet his novels crossover many genres. Strange Days—a supernatural crime thriller—was called "a creepy, hair-raising, chill bumping read" and "a winner in its genre" by Midwest Book Review. His other books include the science fiction novel Starkville, the horror/suspense novel Night Songs, and the dark fantasy novel The Burning. His short story Trick or Treat; It's the Puppet People was published in the 2007 Halloween edition of Sinister Tales Magazine, and his short story Trick or Troll was published in the 2008 Halloween edition of ShadeWorks. Both stories are included in the anthology Holiday Madness being published by Black Bed Sheet Books. Visit Fred online at either http://www.fredwiehe.com
Where to find Fred Wiehe online
Books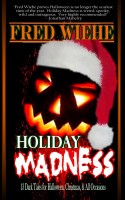 Holiday Madness
by

Fred Wiehe
13 Dark Tales for Halloween, Christmas, and All Occasions The holidays have never before been more spine-tingling or more fun for Tweens, Teens, and Adults alike than in this anthology of 13 supernatural tales. All of the stories were originally written and then read on the radio by author Fred Wiehe.....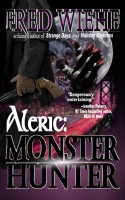 Aleric: Monster Hunter
by

Fred Wiehe
Aleric Toma Bimbai is a two-hundred-year-old Rom, Gypsy, and a legend among his people. He hunts monsters for bounty, a gun for hire, with secrets as dark as midnight in a graveyard. He is a hero and rogue rolled into one, with preternatural powers of his own, only slightly better than the supernatural creatures he hunts. His exploits border on the mythical and the legendary.
Fred Wiehe's tag cloud