Fritz Peterson
Biography
Fritz Peterson was born in 1942 in Chicago, Illinois and was a White Sox fan until he signed with the NY Yankees in 1963. He won the first game he started on April 15, 1966 against the would be World Champion Baltimore Orioles, 3-2. It was the only game the Orioles lost that month. He won 20 games in 1970 and pitched in the All Star game that season. After an 11 year career he holds the lowest career E.R.A. in the long 85 year history of Old Yankee Stadium. Fritz had an over all e.r.a. of 2.52, Whitey Ford was second with a 2.58 e.r.a.
Fritz became an author in 2009 and again in 2012 and is finishing up 2 other books in 2014. He finds humor in almost everything he does. He and his wife have been married for over 40 years and have raised 7 children (so far) with a 7 year old grand daughter living with them as of 2014.
Books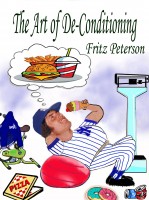 The Art of De-conditioning--Eating Your Way to Heaven
by

Fritz Peterson
"The Art of De-conditioning" is about Fritz Peterson, a 20 game winner for the New York Yankees who hated the dieting and exercising he had to go through his entire career. He vowed that when he finished his baseball career he would weigh 300 pounds some day. He says that in all walks of life people blame a few extra pounds for everything. The "heavies" need to take a stand and fight the diets.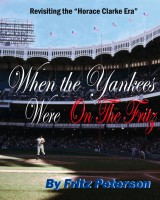 When the Yankees Were on the Fritz --Revisiting the "Horace Clark Era"
by

Fritz Peterson
"When the Yankees Were on the Fritz" is about a low time in New York Yankee history, the Horace Clarke Era, 1966-1974. Fritz's scouts had sold him on the concept that if he were on the Yankees he would be getting a World Series check almost every season, but instead, the Yankees fell to last place in the American League for the first time ever. Fritz never did get a World Series check.
Fritz Peterson's tag cloud