F. R. Michaels
Biography
F. R. Michaels is actually a very nice, normal person who happens to like weird stories and scary artwork. No, seriously. He lives on Long Island with his wife, daughter, several cats, a small dog, and whoever happens to be in his basement at the time. He writes horror and dark fantasy.
Books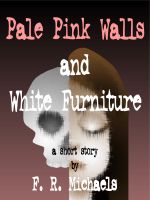 Pale Pink Walls and White Furniture
by

F. R. Michaels
A man awakens to a series of disturbing disjointed illusions, revealing, piece by piece, a hideous truth that will blur the lines between consciousness and oblivion, sanity and madness, and life and death.
F. R. Michaels' tag cloud