Joe Long
Biography
Joe Long has over 35 years of hands-on experience researching his family tree. With this book, he brings this knowledge to beginning researchers and adds a twist by including hundreds of hot-links to relevant genealogical websites. As a result, the beginning researcher can quickly learn not only how, but where to start their search for ancestors. Joe has spent countless hours roaming library shelves, digging through courthouse basements, walking cemeteries and staring bleary-eyed at census records on microfilm. With Internet technology, many of these records are now available at the touch of a computer button. However, sound research techniques are still required to create a professional family tree. Joe shows readers the right way to research.
Books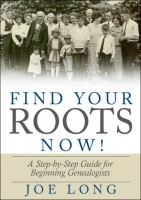 Find Your Roots Now!
by

Joe Long
Find Your Roots Now! is a step-by-step guide for beginning genealogists. This publication combines the power of the Internet with sound research practices. Readers will learn the fundamental skills needed to properly build a family tree beginning with themselves and working backward in time. The National Archives, Internet and DNA research methods are covered in detail.
Joe Long's tag cloud