Fruitjack
Who is this abomination?

Fruitjack's wandered through many fandoms, wearing almost as many names as faces. You may have known him as Abraxas, or as Ren, or as Snovelor, or – if you go way, way back – as RD of Thundercats infamy. It doesn't matter who or what that notorious crammer purports to be, if they're around, you know there's trouble ahead … and behind.

Their origin story is far too convoluted and paradoxical for a couple of paragraphs to give it justice. They may or may not have burst out of an orifice; that or they've always lurked about the abyssal depths of time and space. Having come from elsewhere, no matter how you slice it, they remain for ever and ever outcast among mankind – doomed, as if doomed it were, to exist as a self-aware stream of text posted to the Internet.

Fools! Unbeknownst to the innocent and unsuspecting, Fruitjack pursued a triplet of degrees in physics, travelled extensively among people, and even lived a few all-too-brief years in Colorado. They have vowed to return again to the wild green yonder of that glorious state. Tremble. You have been warned! There have been other achievements and assertions but they are far too gruesome to catalog any further.

No longer pursuing the cheap thrills & spills of fanfiction, Fruitjack has devoted the years since the Great Mayan Downer of 2012 – are we dead yet? – to original science-fiction and fantasy realism – or, as it is understood by you of mere flesh and blood, "horror".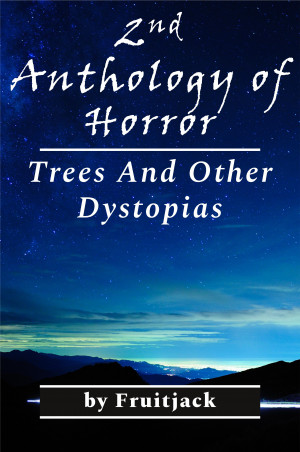 2nd Anthology of Horror: Trees And Other Dystopias
by

Fruitjack
The tales that comprise this anthology cover a broad range of subjects from humor to sci-fi / fantasy. Settings are unified by geography every so often. Themes are revisited and contrasted. Equally as varied are my inspirations! Mad props go to Poe, Lovecraft, Blackwood, and Alvin Schwartz – short story writers whose work I devour.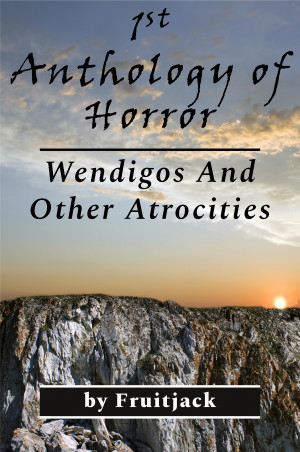 1st Anthology of Horror: Wendigos And Other Atrocities
by

Fruitjack
Gay Wendigos, time-travelling Ruskies, Cows, mind-altering Nazis, and post-apocalyptic Mutants. You'll find all that.