Fuqua St. John
Biography
I am currently the Lead Teacher at a middle school in Arlington, Virginia. I coach track, run an anonymous literary magazine ("A No Name Moose"), shepherd the school journalists, direct the school plays, and drum for the teacher rock band. At home in Arlington, my family is, of course, darling, and we have a vicious holly tree and a backyard garden where unplanted vegetables magically grow.
Where to find Fuqua St. John online
Books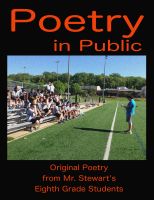 Poetry in Public 2013
(5.00)
The original poetry--dulcet and dissonant, supercilious and super-silly--of the eighth graders in Mr. Stewart's English classes.
Fuqua St. John's tag cloud