Francois Victor Tochon
Biography
Dr. Francois Victor Tochon is a Professor in the Departments of Curriculum & Instruction and French & Italian at the University of Wisconsin-Madison where he headed World Language Education for 6 years. He was born in Geneva, Switzerland. He has a Ph.D. in Applied Linguistics (Université Laval) and a Ph.D. in Educational Psychology (Ottawa University), and received the equivalent of Honorary Doctorates from two universities in Argentina and Peru. Prof. Tochon was the co-editor and Chief editor of the International Journal of Applied Semiotics. Briefly on the Board of the Semiotic Society of America, he worked on intercultural semiotics and was the president of the special interest group of Semiotics in Education of the American Educational Research University, looking for deeper ways of organizing teaching and learning. In 2009-2011, Prof. Tochon received an award from the U.S. Department of Education to create, research and evaluate personal learning environments for a "deep approach" to languages and cultures, with a focus on Turkish. It allowed his research team to format an innovative interface between language policies and classroom curricula and practices. In 2007-2008, he was awarded grants from Spencer and Tubitak—National Science and Technology Foundation of Turkey—to study ways to internationalize Education through e-portfolios, world languages and intercultural semiotics. With twenty-five books and more than hundred fifty articles and book chapters to his credit, Prof. Tochon has also been Visiting Professor in many universities. He is currently published in 11 languages. Among his books are: "The Foreign Self: Truth Telling as Educational Inquiry" (Atwood); Tropics of Teaching: Productivity, Warfare, and Priesthood" at University of Toronto Press. His article "The Key To Global Understanding: World Languages Education. Why Schools Need to Adapt" published in the Review of Educational Research (79/2) received the 2010 Award of Best Review of Research from the American Educational Research Association (AERA). He received the 2012 Award of International Excellence from the University of Granada, Spain, and he was awarded the 1% most viewed profile on LinkedIn in 2012 and on Academia in 2014 and 2015. For his contributions to Academic Affairs and Humanity, Prof. Tochon received the 2013-2014 Medals of the Council Chairperson of the Lions Club International and of the Lions Club International Foundation.
Books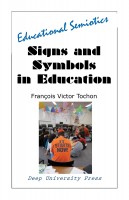 Signs And Symbols In Education: Educational Semiotics
by

Francois Victor Tochon
Educational Semiotics is a highly original work of scholarship. In four ingeniously designed studies, Tochon demonstrates how semiotic analysis can be used to deconstruct the professional learning experiences of preservice teachers. These studies offer startling insights into the creative application of semiotic methods and the understanding of long standing issues in teacher education.
Francois Victor Tochon's tag cloud