Gabriel Lopez
Biography
I am a writer, that is what I am and I plan to write for a long time, it's just too much fun.
Books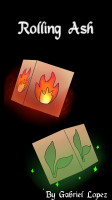 Rolling Ash
by

Gabriel Lopez
What happens when two thugs mess with a mage who has a pair of magical dice and knows how to use them?
Gabriel Lopez's tag cloud
Gabriel Lopez's favorite authors on Smashwords
Smashwords book reviews by Gabriel Lopez
Finding Cassia Lutherans on April 30, 2016



I remember this old story, back when I was in High school, I left a review on here 6 years ago and amazingly it is still here. But now that I am older, allow me to properly review this story. Pixie is a young girl on the cusp of her life, trying to figure out life like any teenage girl. She does all of this with her best friend, Cassia Lutherans, who is very much interested in parties. Pixie and her family of who all have very unique names. Pretty soon she runs into a man who will lead her to a world of love, only for things to not go so well. After an incident she falls into the arms of an old flame who rekindles that spark of love that was broken inside her, only for tragedy to strike once more with the disappearance of her friend Cassia, this leads to a very singular event that also leads to an ending with a very unforeseen twist. All in all, I enjoyed this story tremendously, yes the errors and story telling has obvious flaws, however that doesn't matter to me when it comes to a story that I truly enjoy. I do however feel as though the story was rushed and unfinished. But overall I can see this becoming more than 32 pgs. All in all, it was good to come back and see this story again, I still enjoy it and I believe that the author still has a lot of talent in her. Thank you for writing this story. I thoroughly enjoyed it 6yrs later.