G. A. Edwards
Biography
G. A. Edwards is a retired teacher now spending her days sharing the joys of literature one word at a time. A voracious reader of all genres, she writes gritty contemporary thrillers for teens with flawed heroes you'll want to come out on top. She swears she loves teens, a good story, and her minivan, but avoids celery, glitter, and squirrels.
Where to find G. A. Edwards online
Books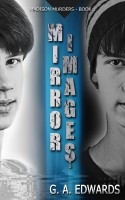 Mirror Images
by

G. A. Edwards
Young Adult suspense thriller. Someone's drowning little girls. Sophomore Marty Jamison is trying to focus on good grades, his girlfriend, and saving for a car. Instead, he's busy watching over his mentally ill twin. When the murders hit close to home, Marty uses his reporter skills to search for the true source of the Floating Angels Murders. Can he face himself in the mirror after he does?
G. A. Edwards' tag cloud