Barbara Galler-Smith
Biography
Barb Galler-Smith resides in Edmonton with John, her fabulously supportive husband, and three incredibly cute Yorkshire terriers. After a hiatus from everything but working for money and writing romance or pet care brochures, she returned to the quirky world of writing science fiction and fantasy.

She's a member of Edmonton's Science Fiction and Fantasy Writer's Group. "The Cult of Pain", and co-founder, with writer-editor Ann Marston, of the emerging new writers group, "The Scruffies" (named for a group-written story's main character, not for their personal conditions). She's also busy editing with On Spec magazine.
Books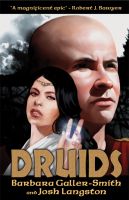 Druids
by

Barbara Galler-Smith
Rhonwen, a healer, keeps the Druidic culture and practises alive in a land ravaged by a Roman civil war. Sworn by her Mother to a blood oath of vengeance, she must choose between fulfilling the promise or following her own heart`s path.
Barbara Galler-Smith's tag cloud