Gareth Jones
Biography
Gary was born in Glasgow, Scotland in the wee hours of the evening. Upon reaching adulthood he became a Firefighter and served for 12 years with the Glasgow Fire Department. Having always been blessed with a sense of wanderlust however, he left home one day to buy a loaf of bread and forgot to return. Traveling extensively, he found himself, one day, in the fair city of San Diego where he found the bread very much to his liking and settled in Southern California in 1995. Today he spends most of his time writing for children and having deep philosophical conversations with his neighbor's cat. Of the two, the cat usually makes more sense.
Books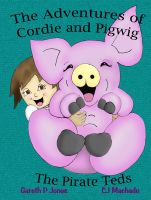 The Adventures of Cordie and Pigwig, The Pirate Teds
by

Gareth Jones
While searching through the treasures at her local curiosity shop, little Cordie Brown discovers the cutest stuffed pig she has ever seen. Little did she know, that finding Pigwig would change her life forever and lead to many grand adventures upon a magical island So come on in, hitch a ride on a Travel Bubble and Join The Adventures of Cordie and Pigwig!
Gareth Jones' tag cloud