Vince Bios
Biography
As a teenage, Vince Bios was fascinated with the paranormal where he learned everything possible about the unknown through books, movies and documentaries. Over the years, he attended night classes, gone to seminars, and joined several ghost hunting groups in pursuing answers to the unnatural mysterious happening in the world. In the past two decades, Vince continued his interest by conducting his own research and studies into the fields of folklore, ufology, parapsychology and cryptozoology. After being hired in the trades a few years ago, he started the blog Abnormal Realms to be an online sources for news, articles, information and other resources about the paranormal. Vince has expanded to providing such material through podcasts and now ebooks.
Where to find Vince Bios online
Books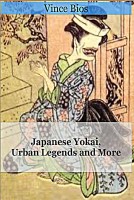 Japanese Yokai, Urban Legends and More
by

Vince Bios
A collection of articles about Japanese legends and ghost stories.
Vince Bios' tag cloud