Gary Dixon
Biography
Gary Dixon was born in Melbourne, Australia and lived in Qingdao, China for 6 years and 2 years in Guangzhou where he was teaching Business Studies and Economics. Currently he is living with his wife Mary and his son Rory in Wollongong. He is working in Sydney teaching immigrants and disadvantaged Australians English job-seeking skills. He is also working on his sequel to 'Intertwined in China' about the day after with further development of the characters but not only in one day. He still also enjoys a beer of course!
Smashwords Interview
Books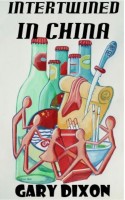 Intertwined in China
by

Gary Dixon
Novel/Novella. Daisy from Idaho is nervous as she lands in Qingdao, China. Will she survive her first day? Can Quentin from Australia convince his drug supplier to give him more credit? Kenneth is a local who respects his teacher John from England. Can they handle events that will affect them today? Can Luke Flora from Canada get laid tonight? In 24 hours their lives will be intertwined.
Gary Dixon's tag cloud