Geoff Pound
Biography
Geoff Pound has worked as a church consultant and a Seminary President in Australia, an English writer and Social Media consultant in the UAE, and is currently pastor of the Ashburton Baptist Church in Melbourne, Australia.

Geoff first came across the books of F. W. Boreham when he was a young pastor in the province of Otago, New Zealand, the same region in which Boreham commenced his ministry, although eighty years earlier.

After moving to Australia, Geoff made F. W. Boreham the focus of a doctoral thesis and later helped form John Broadbanks Publishing to make Boreham books available to a new generation of readers.
Books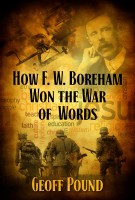 How F. W. Boreham Won the War of Words
by

Geoff Pound
F. W. Boreham was one of the most prolific authors of the twentieth century, but this book tells of the crisis Boreham experienced during the First World War that led to him discovering and adopting a winning style of communication.
Geoff Pound's tag cloud