George Cormier
Biography
My book explains quite a bit about me, but I will say that my wife and I have been married almost 69 years. We have 10 beautiful children and numerous grandchildren, and even one great-granddaughter! We live in Tennessee after spending most of our lives in New England, where we raised our children. I had a plastering businesses which kept us fed, and my wife, Lillian, was able to stay home and take care of the kids. We are enjoying a wonderful life together. I never thought I could write, but thought I would give it a try. I hope you enjoy it.
Books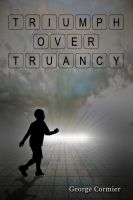 Triumph over Truancy
by

George Cormier
A short story about being sentenced to a reform school for 6 months at age 15, penned at age 81 in 2010. The school no longer exists, with very little history until now. My book is now archived in the Chelmsford, MA library. The story covers how and why I was sentenced and my experiences while in there, how it profoundly affected my life, which just may affect yours. The year was 1944. Enjoy...
George Cormier's tag cloud