George Chedzoy
Biography
Hello! I'm a journalist who lives in North Wales with his wife and two young children. I recently took redundancy from the newspaper where I worked as a feature writer. I now work from home as a freelance writer / novelist. I've written three books for children so far, Smugglers at Whistling Sands; The Missing Treasure and Something Strange in the Cellar. These are books one to three in my Lou Elliott Mystery Adventure Series, featuring the characters Lou (Louise) and siblings Jack, David and Emily. Lou and Jack are 12 and the others are a bit younger. They're a nice bunch and, having had three adventures, they are shortly to have a few more!
Books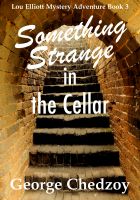 Something Strange in the Cellar
by

George Chedzoy
(4.00)
Four youngsters on holiday at the Welsh seaside resort of Abersoch come across a strange, ramshackle old farmhouse while out walking across the moors. It's the home of a lonely old lady in her 90s. She's at her wits' end, certain it's haunted. But is it, or is there a more rational explanation? Headstrong Louise (usually known as Lou) is determined to find out.
George Chedzoy's tag cloud