G Edgar Wade
Biography
I grew up in the San Francisco bay area. My haunts included Sutro Baths before it burned down in 1966 and Playland at the Beach. I remember the feeling of obsolescence and decay in those places and an awareness that mortals were not the only inhabitants. Some other haunts were the boardwalk at Santa Cruz and the heavily forested coastal hills that included our family cabin at LaHonda. It was there that my family and I witnessed the UFO phenomenon of 1952. Years later I moved to the intermountain west and fell in love with the primeval wilderness of the Uintah mountains and the sphinx-like granite sentinels that stand guard over alpine lakes and forests. Add to this my intense interest in World War II (I was born during the war). This, and more, caused a stir in my soul that needed an outlet through the medium of the written word.

After more than six decades of impressions, the urging of my grown children and the forbearance of my wife Lynette, I have decided to share my wild imagination with those who care to enter in to my inner sanctum.
Books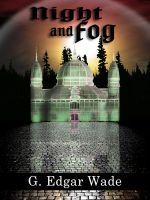 Night and Fog
by

G Edgar Wade
(4.33 from 3 reviews)
Seventeen year-old Susan Johansen is threatened by deadly, supernatural forces as she struggles to find the answer to her best friend's disappearance. In her search Susan is lured into the high Uintah mountains and discovers an isolated, abandoned amusement park where a lake should be. She enters the park only to discover that the same fate that befell her best friend has been planned for her.
G Edgar Wade's tag cloud