Curtis Gilmore III
Biography
Curtis Gilmore III has always known what it meant to "work hard for what you have" because his mother was an awesome example and teacher. After his parents separated at the age of 14, he watched his mother raise five kids and work two jobs to keep a roof over their heads. When the children were old enough to work, they were expected to get a job to help support the family. In addition to demonstrating work ethic, his mother taught each child to budget and plan for their futures. These lessons left such an impact on Curtis that he incorporated them into his family and created a group with his immediate family members called "G-Corp," which stands for Gilmore Corporation. Each sibling and his or her family members participated. The group addressed the seven conditions in this book: family, financial, spiritual, physical, mental/educational, job, and legal. Not only did G-Corp make the family closer but empowered members to make better decisions for their futures so that they could improve their lives and their families. Curtis taught them to Catch Their Own Fish!

Curtis has been married 29 years to his lovely wife Bridget and has two beautiful daughters, Jacqueline and Kristina. They live in Accokeek, MD.
Books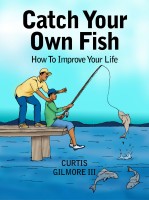 Catch Your Own Fish: How to Improve Your Life
by

Curtis Gilmore III
"Catch Your Own Fish" tell you how to improve the quality of your life by teaching you the importance of God, family, Church & community, as well as education, and tell you how you can be financially self-sufficient.
Curtis Gilmore III's tag cloud