Elisabetta Redshaw
Biography
Elisabetta Redshaw is a writer who loves Jesus Christ as her Lord and Savior. She loves truth. She knows that life is not easy, so she tries to make her writing enjoyable by adding a humorous touch. Even in the worst of life's situations there are often funny circumstances that are noticeable to anyone who is looking for them. Her first novella, A PLUMP LITTLE LADY FINDS LOVE is available on smashwords.com or amazon.com.
Books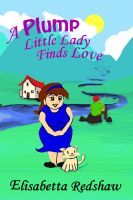 A Plump Little Lady Finds Love
(4.80)
A Plump Little Lady Finds Love is a sweet Christian romance of 16 plus K words. Mary is a chubby, ordinary-looking woman with a question. Could a lady who has no beauty to speak of find her own Prince Charming? In the beauty of God's creation Mary discovers that God is real and that He cares deeply about her. Not only does she meet her Prince Charming but she makes a few friends along the way.
Elisabetta Redshaw's tag cloud