Glenn Lofy
Biography
Glenn Lofy is a fifty-year-old male who lost his wife due to the complications caused by the use of chemotherapy to treat his wife's pancreatic cancer. He now spends a great deal of time attempting to educate others on the alternatives to cancer care that only make sense. By profession, he is an occupational therapist, Certified Hand Therapist, Manual Certification in Manual Therapy, Certified Lymphedema Therapist and a Certified Kinesiotaping Practitioner. He has a son who will soon be attending Indiana University-Bloomington.
Books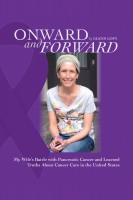 Onward and Forward: My Wife's Battle with Pancreatic Cancer and Learned Truths About Cancer Care in the United States.
by

Glenn Lofy
(5.00 from 2 reviews)
In 2013, Shelley Lofy, a wife, mother and occupational therapist was diagnosed with pancreatic cancer. This book, written by her husband, chronicles the "Cancer Care Ride" that Shelley and her family experienced. This book also chronicles their experiences related to alternative treatments for cancer, how much better they worked and how much more sense they make than the current protocols used.
Glenn Lofy's tag cloud