Glen M. Glenn
Biography
Glen M. Glenn was born and raised in Trumbull, Connecticut on the border of the Yankee Empire and Red Sox Nation. After finishing his formal education, he joined a rock band as a singer and keyboardist. After playing in several bands he moved to California to pursue his dream of music. Being a lyricist he began to write short stories. Eventually he began writing novellas, and finally novels.
After ten years in California, he moved back east and joined the rock band Orange Glow. Besides singing and writing songs for the band, he had his first novel Ritual published in 2004. Ritual received stellar reviews from many critics, including the prestigious Midwest Book Review.
Glen has moved back to California and lives in the San Diego area. He's a die-hard baseball fan and attends as many games as possible.
Books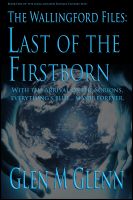 The Wallingford Files: Last of the Firstborn
(4.50 from 2 reviews)
Eighty years have passed and Earth is just another Sorion outpost. William Colton is searching for the Great Weapon to defeat his Sorion oppressors. But instead, he finds a great woman. Sondra Michaels is a syntra. She has been hidden on Earth to give birth to the next Sorion king. Together they try to free Earth from Talex, the outpost governor, whose purpose is to push humanity to extinction.
Glen M. Glenn's tag cloud