Sharon Robards
Biography
I am an Australian author who lives two hundred kilometres north of Sydney, on the beautiful and rugged east coast of Australia, in a place called Port Stephens, a sanctuary for dolphins and a Mecca for tourists who come to see an annual migration of 6,000 whales each year.
Where to find Sharon Robards online
Books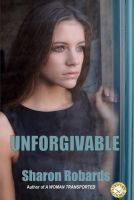 Unforgivable
Unforgivable is the story of a teenage girl and a young nun caught up in the great religious and social upheaval brought on by Vatican II, and a thriving adoption industry driven by society's fierce disapproval of unmarried mothers.
A Woman Transported
Isabel is faced with only one choice — fight her way out of the rookery of St Giles with her wit and beauty and somehow follow the ship that sent her mother to the sunburned convict land of Australia, or else die too young after a short life of wretchedness.
Sharon Robards's tag cloud