GreatOne AS
Publisher info
GreatOne A.S., or rather Great One Author Services is a non-exclusive Literary service. Helping independant artists reach the masses through various services.

The founder of GreatOne A.S. has years of publishing experience and offers literary agent representation, help in obtaining book signings, ebook formatting, and many other services.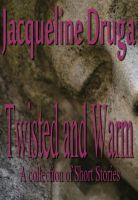 Twisted and Warm - A Short Story Collection
by

Jacqueline Druga
(3.00)
Where there is death, there is fear, love, missing, dementia and sometimes smiles. Twisted and Warm is a collection of short stories by Author Jacqueline Druga. Ranging from twisted to warm, Jacqueline gives you ten short stories all of which deal with the theme of death in one way or another.
GreatOne AS's tag cloud