George Goodman
Biography
George Goodman is a multi-instrumentalist performer, music instructor, videographer, web admin, family-man located in Qualicum Beach, British Columbia on beautiful Vancouver Island. Having grown up in a musical family and completed the Commercial Music Diploma program from Capilano College majoring on Tenor Saxophone, George continues his life-long musical passion by playing solo gigs on guitar, harmonica and vocals, as a member of a number of bands playing rock, folk and blues on saxophone, harmonica, and keyboards as well as an instructor to music students worldwide via Skype and locally in-person. George has also written and produced a growing collection of instructional videos teaching how to play classic rock, blues and folk songs on guitar and harmonica.
Where to find George Goodman online
Videos
Guitar And Harmonica Method
Hi, my name is George Goodman and I want to help you learn how to play guitar and harmonica. I am really excited to announce that I have just released, in eBook format, The Guitar and Harmonica Method. Have You Ever Wanted To Learn How To Play Guitar And Harmonica? To get up and perform tunes at the local open mic? To entertain around the camp fire? Or join in on a picking and grinning kitchen table gathering? Or just for yourself? Then the Guitar And Harmonica Method can help
Books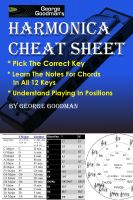 George Goodman's Harmonica Cheat Sheet
by

George Goodman
George Goodman's Harmonica Cheat Sheet is a combination of three great tools to kick-start your harmonica playing, The Blues Harp Chart, Major Key Degrees of Scale, Circle Of Fourths And Fifths. Bottom line - pick the right key harmonica, learn the notes for chords in all 12 keys (chord tones make up the majority of notes in a melody), and understand playing in positions.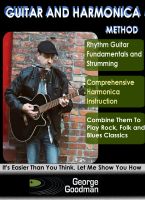 Guitar and Harmonica Method
by

George Goodman
(5.00 from 1 review)
The Guitar and Harmonica Method provides aspiring musicians with the basic tools and knowledge needed to play guitar and harmonica together, to be able to perform great songs with confidence and to gain a deeper musical understanding. Guitar instruction is introduced in the first section, harmonica instruction in the second. The third section utilizes music theory to bring the instruments together
George Goodman's tag cloud