Gordon Cameron
Biography
Gordon Cameron is a two legged biped consisting of about ninety percent water and ten percent carbon, nitrogen, oxygen, etc. He has spent the past fifty years absorbed in a variety of passions and professions, one notable contribution to the universe being his animated short, Every Mouse's Dream, which took an honorable mention in the short film competition at Triggerstreet.com. Gordon currently resides in Merced, California with a silver goldfish named Silver and an orange goldfish named Gold and a pet cactus named Mel. Gordon's favorite pastimes include long walks on the beach, broccoli eating contests, rolling around in garbage and arguing with the crockpot.
Where to find Gordon Cameron online
Books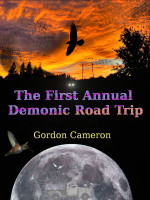 The First Annual Demonic Road Trip
by

Gordon Cameron
Charles wants me to go with him to some secret gathering of demons aptly called The Gathering, but I'm not going. Why should I? What has he ever done for me except instill worry, regret, fear and sorrow into my life? Oh, he can whine, moan, beg and carry on all he wants, but I don't care. I'm not going to some stupid gathering out in the middle of nowhere with the likes of him. No way.
Gordon Cameron's tag cloud