K. W. Gorsky, Jr
Biography
I am a former Marine, Vietnam veteran, retired Chief of Police, and retired B&B innkeeper. Married with three daughters and three grandchildren; my wife, Denise, and I reside in Rockbridge County, Virginia. When not writing, my favorite pastimes are growing daylilies, solar astronomy, philately, and reading history.
Books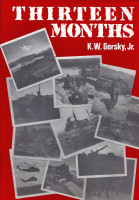 Thirteen Months
by

K. W. Gorsky, Jr
A novel based on the real-life experiences of the author. Ski, the protagonist, who arrived in country (South Vietnam) at the tail end of the Tet offensive 1968, chronicles the everyday occurrences and emotions endured during his thirteen-month tour of duty in that controversial war.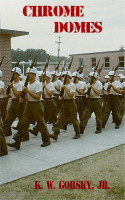 Chrome Domes
by

K. W. Gorsky, Jr
A provocative, no-holds-barred, prequel and fact-based novel chronicling the rigors of Marine Corps boot camp at Parris Island, South Carolina, during the Vietnam War, experienced and shared by a "still wet behind the ears" protagonist.
K. W. Gorsky, Jr's tag cloud