Gauthama Neelambaran
Biography
"Gauthama Neelambaran" is an Eminent Journalist & Novelist rendering unprecedented service for more than forty years in Tamil literary world. His contributions to Tamil Literature starts with his first work "Buddharin Punnagai" - a Tamil short story. This story was published in "Swadesamitran" – Tamil daily newspaper during the year 1970. He had worked in various famous Tamil Journals like Deepam, Idhayam Pesugiradhu, Gnana Bhoomi, Mayan, Ananda Vikatan, Kungumam, Muththaram and Kunguma Chimizh for over 40 years and retired. He is currently pursuing a freelancer role in "Kunguma Chimizh" – a BiMonthly fictional journal. His work consists of more than hundred short stories, poems, articles, Historical Novels & Historical Plays which has been broadcasted in "All India Radio" and telecasted in Chennai Doordarshan TV Channel. His works on Historical Novels has been well acclaimed by mass Tamil Literary readers in India & Abroad. Some of his significant works in Historical Novels are as follows, Sethu Banthanam, Chozha Vengai, Raja Ganganam, Mohini Kottai, Vijaya Nandhini, Masidoniya Maaveeran, Nila Mutram. Driven by his interest toward "Gautama Buddha" he had penned down the detailed Life History of Buddha which was published in "Muththaram Tamil Weekly" as weekly episodes for nearly 3 ½ years. This work was later compiled & published as a book "BuddharPiran". Most of his works were published in various leading Tamil magazines like "Ananda Vikaten", "Idhayam Pesugiradhu", Kalaimagal, Kumudam, Dinamalar ( Vaaramalar), Vanambadi(Malaysia), Kunguma Chimizh.
Where to find Gauthama Neelambaran online
Books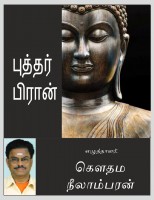 புத்தர் பிரான்
by

Gauthama Neelambaran
'புத்தர் பிரான்' என்னும் தலைப்பில், அண்ணலார், அமலர், அறவாழி அந்தணராம் புத்தபெருமானாரின் திவ்ய சரிதத்தை எளியேன், 'முத்தாரம்' வார இதழில் தொடராகச் சற்றேறக்குறைய மூன்றரை வருடங்கள் எழுத நேர்ந்தது, கருணைக் கடலாம் போதி மாதவரின் திருவருள் என்றே எண்ணுகிறேன். இது வெறும் கதையல்ல. உலகம் போற்றும் ஒப்பற்ற மாமணியின் வரலாறு. இதற்காக நான் நூற்றுக்கும் மேற்பட்ட நூல்களை வாசித்தேன்.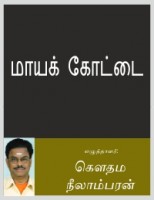 Maayakkottai
by

Gauthama Neelambaran
Gouthama Neelambaran is famous for his historical novels and this time he has written an very interesting story for children.
Gauthama Neelambaran's tag cloud