Grigorios Emm. Papadogiannis
Biography
Grigorios Emm. Papadogiannis, born in Greece in 1954, graduated at Athens University on Law Faculty and post graduated at Munich University, Germany. In 1980 he became barrister in Athens, Greece. His favorite fields of interest have always been Physics and Literature. In 1990 he translated from German and published in Greece Stanislaw Lem's The Investigation and Memoirs Found in a Bathtub. In 2011 he wrote and published in Greece Superposed Cycles – The Dimensions of Time, a book concerning the concept of time from both philosophical and scientific aspect.
Books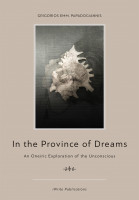 In the Province of Dreams - An Oneiric Exploration of the Unconscious
by

Grigorios Emm. Papadogiannis
One might wonder if all people dream in the same way, or if there are differences which are due to the subjective peculiarities of each person. However, I have rejected this latter aspect… This doesn't mean that there are no differences, but they are definitely not qualitative...
Grigorios Emm. Papadogiannis' tag cloud