H. G. Hartung
Biography
Biography of H. G. Hartung

Born and raised in Burbank, California. Won Second Place Junior State award and Third Place Senior State award for model automobiles designed and constructed for the Fisher Body Craftsman's Guild competition.
During college, worked for two summers at the North American Rocketdyne Santa Susana, California test facility; the first as a "C Mechanic" and the second as Analyst for Atlas Engine Test Stand Coca 2.
Received Bachelor of Science degree, with honors, in Mechanical Engineering and Master of Science degree in Jet and Rocket Propulsion Engineering from the California Institute of Technology, Pasadena, California. Was a Three-year Letterman in varsity football (offensive and defensive end) and in varsity baseball (third baseman). Caltech varsity football team ranked second in the Southern California Interscholastic Athletic Conference in his sophomore year.
Garnered over a dozen first place trophies in time trial and autocross competition with his race-modified Porsche Speedster. Served as Activities Chairman of the Porsche Owners Club, Los Angeles, California.
Upon graduating, he accepted an engineering position at the CIT Jet Propulsion Laboratory (JPL). Made two trips to Cape Canaveral as Cognizant Engineer, Propulsion System; one for the Venus fly-by mission of Mariner II spacecraft and the other for the Mars fly-by mission of Mariner IV spacecraft. Met and married his true love while both were employed at JPL. They have two very successful adult sons.
From Assistant Chief Engineer he went to manage a "job shop", discovering a God-given love for sales. Was in Sales Engineering for most of his work-life, ascending to Regional Sales Manager while in his middle thirties.
Besides his mastery of the American Language, speaks two languages and one dialect: Spanish (castellano), slowly; High German (Hochdeutch), with a limited vocabulary; Swabian (Schwaebish), naturally. His hobbies include playing tennis and contract bridge. He has spent four years singing (bass) in The Thoroughbred (Barbershop Harmony Society) Chorus in Louisville, Kentucky.
Has a copyright from the United States Library of Congress (2003) for his translation of the New Testament from Koine Greek into the American Language entitled Almost Greek. This first work had been five-years in the writing. Upon moving to the Louisville Kentucky area, he discovered an on-line publisher, Smashwords and within six months had written and self-published a political novel (Presidential). A complete re-writing of Almost Greek ensued, taking over two years. More Koine Greek words are employed therein.
Books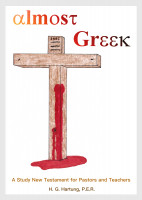 Almost Greek
by

H. G. Hartung
A literal translation of the New Testament from the original Koine Greek into current American English. Many important Koine Greek words are used in place of the nearest American equivalents or the traditionally published American equivalents. A lexicon is included which presents detailed definitions of these Koine Greek words.
H. G. Hartung's tag cloud