Gracie Strattyn
Biography
Gracie Strattyn was raised in various parts of the United States. She began writing at the age of thirteen. She now resides in a small town in Georgia, where she's lived for eight years. Ms. Strattyn can often be found drinking hot coco any time of the year, taking long walks in the forest, vlogging on her YouTube channel, and constantly taking pictures of nature.
Where to find Gracie Strattyn online
Books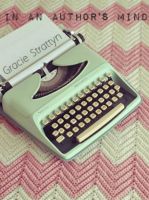 In an Author's Mind
By
Gracie Strattyn
Price: Free! Words: 210. Language: English. Published: December 24, 2012. Category: Fiction
(5.00 from 1 review)
A poem about an author's mind and writer's block. The final line is inspired by John Green's novel, the Fault in Our Stars. Credit goes to him.
Gracie Strattyn's tag cloud